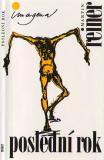 Poslední rok / THE LAST YEAR
nakladatelství Český spisovatel
A collection of poems IN CZECH (for copyright, please write to the author at reiner.cz@gmail.com)
Reiner's second collection is a complex yet functional literary organism whose purpose is the careful consideration of extreme experience and the rediscovery of a lost equilibrium.
The author succeeds in this book in pacifying and clarifying internal and external realities by interesting means. There are many objective worlds for the senses to perceive in The Last Year; we could populate these with a few episodic characters to create a unit of prose quite comfortable to read – although our concentration on the inner story would be too insistent to admit the common "humanizing" images of genre. The author has avoided all themes suited to the essay form, as if his way of seeing had more in common with the Latin than the Czech experience. But this is about more than the use of Italian exteriors. Where we might expect an anguished dissection of an emotional state with an emphasis on embarrassing detail, we are relieved to be given effective descriptions – of a particularly visual nature – of highly-charged sensual experience. The poet entrusts the reader with a burden – a burden the reader knows by seeing. There is no question of plundering the human heart, nor are we witness to a common descent into vulgarity. Moments of despondency are burdened with nothing but their own weight.
Several of the poems in this collection were translated by American scholar of Czech Benjamin Paloff and published in the Boston internet magazine Double Room.
| | |
| --- | --- |
| Vydalo nakladatelství | Český spisovatel |
| Rok vydání | 1995 |
| Počet stran | 96 |
| Vydání | first |
| Vazba | paperback |
| ISBN | 80-202-0546-2 |